Reception and secretariat is your central point of contact for all general Questions before you sign up for any specific course or event.
You can also reach us here:
Office@DME-GmbH.de
+49 (0) 203 306 4250

Digital - Seminar
Desalination Institute DME bietet das Seminar "Einführung in die Meerwasserentsalzung, Technik - Märkte - Umwelt" als Digital - Veranstaltung an.

Im Rahmen ausgewählter Vorträge geben Experten einen Überblick über die gängigsten Meerwasserentsalzungsverfahren und ihre Anwendung und stellen Märkte und Potentiale, Umweltaspekte und Trends aus Forschung und Entwicklung vor.
Für wen ist das Seminar geeignet?
Dieses Seminar richtet sich vor allem an Vertreter aus Politik, Wirtschaft und Wissenschaft, die sich sowohl technische als auch marktrelevante Grundlagen über diesen bedeutsamen Wirtschaftszweig aneignen möchten.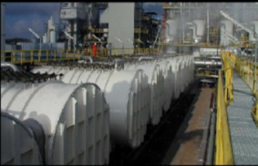 Digital -Seminar:
- Die Live – Vorträge mit der Beantwortung Ihrer Fragen zum Vortrag und Ihren Projekten!
- Die Live – Vorträge als Aufzeichnung stehen ein halbes Jahr nach dem Seminar zur Verfügung!

Das Programm:
ab 08:30 Registrierung
09:00 - 09:15 (15 Min) Begrüßung
09:15 - 10:15 (60 Min) Märkte
10:15 - 11:00 (45 Min) Entsalzungsverfahren im Überblick
11:00 - 11:15 (15 Min) Kaffeepause
11:15 - 12:45 (90 Min) - Phasenstabile Entsalzung
- Membrantechnik (UF, NF, RO)
- Ionentauscher
12:45 - 13.:45 (60 Min) Mittagspause
13:45 - 15:15 (90 Min) Phasenwechselnde Entsalzung
MED - MEH - MD
15:15 - 16:00 (45 Min) Entsalzungssysteme aus der Praxis
16:00 - 16:15 (15 Min) Kaffeepause
16:15 - 17:00 (45 Min) Kosten
17:00 - 17:45 (45 Min) Rohstoffe / Umweltaspekte

Teilnahmegebühr inkl. MwSt


Digital - Seminar
Again in 2022 Desalination Institute DME repeats its seminar Introduction to Water Desalination: Technology - Markets - Environment as a Digital event.
This Seminar addresses mainly representatives of politics, business and science, who want to acquire elementary technical and economical information about this important and rapidly growing branch.
In the framework of selected speeches internationally recognised experts will present an overview on the most relevant desalination technologies and their application. Furthermore they will present markets, potentials and trends in research and development.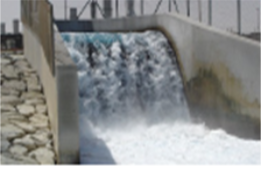 Digital Seminar:

- The live lectures with answering your Questions about the lectur and your projects!
- The live lectures are recorded as a recording available six months after the seminar!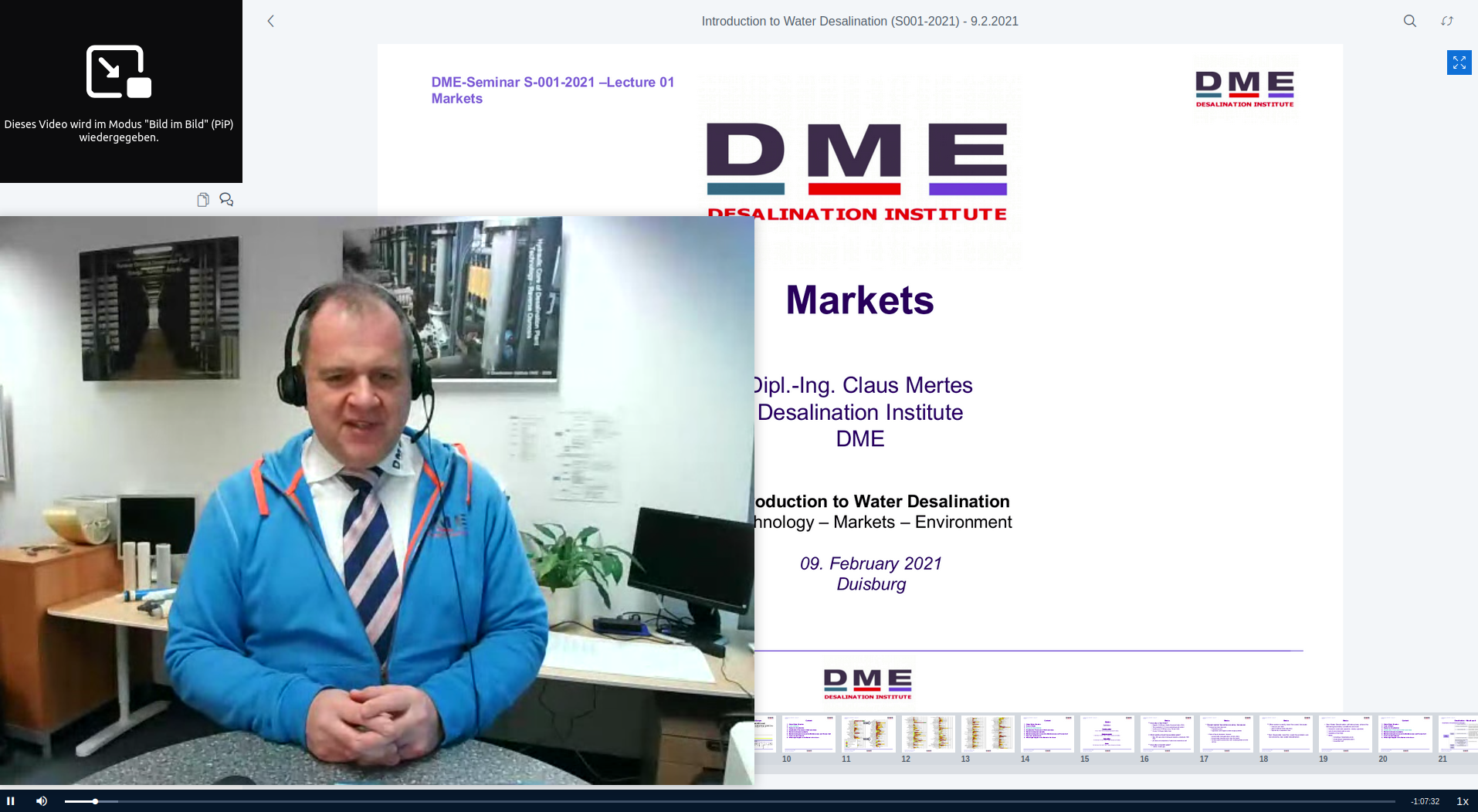 Program:

ab 08:30 Registration
09:00 - 09:15 (15 Min) Welcome adress
09:15 - 10:15 (60 Min) Markets
10:15 - 11:00 (45 Min) Desalination Technology in brief
11:00 - 11:15 (15 Min) Coffee Break
11:15 - 12:45 (90 Min) - Phase Stable Desalination Technology
- Membranes (UF, NF, RO)
- Ion exchange
12:45 - 13.:45 (60 Min) Lunch Break
13:45 - 15:15 (90 Min) Phase changing desalination technology MED - MEH - MD
15:15 - 16:00 (45 Min) Desalination Technology in practice
16:00 - 16:15 (15 Min) Coffee Break
16:15 - 17:00 (45 Min) Cost Aspects
17:00 - 17:45 (45 Min) Raw Materials and environment aspects
Participation Fee incl. 19% VAT