Introduction to Water Desalination: Technology- Markets - Environment

This Seminar addresses mainly representatives of politics, business and science, who want to acquire elementary technical and economical information about this important and rapidly growing branch.

In the framework of selected speeches internationally recognised experts will present an overview on the most
relevant desalination technologies and their application. Furthermore they will present markets, potentials and trends in research and development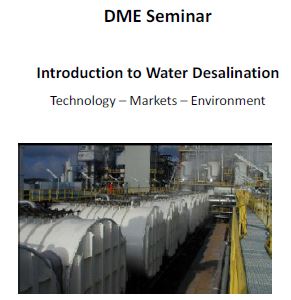 Einführung in die WasserEntsalzung: Technik - Märkte - Umwelt

Im Rahmen ausgewählter Vorträge geben Experten einen Überblick über die gängigsten Wasserentsalzungverfahren und ihre Anwendung und stellen Märkte und Potetiale, Umweltaspekte und Trends aus Forschung und Entwicklung vor.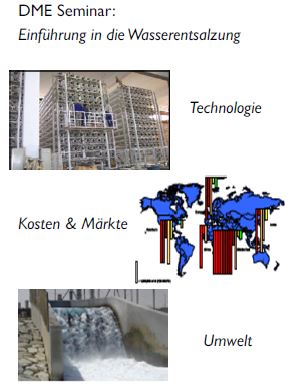 Future Desalination Technologies
Everybody is familiar with MSF, MED, RO, NF, UF. Some might have been in contact with MD and FO. But who knows how this works and who knows what comes next after MD and FO. DME has based on its know-how of desalination technology gath-ered a group of new and interesting tech-nologies being presented by inventors, own-ers of patents and researchers showing where we will go in desalination in the fu-ture. As we all know new and good ideas in desalination are getting more and more needed DME is very proud having gathered this group of people coming and showing a very new way of thinking how to desalinate brackish and seawater in the future. In order to set your expectations you should NOT think of this event to be a shopping area for your company but an illustration of what comes up next; but you may find interesting contacts and people you may stay in contact with in the future.